hullo again
Sorry that I haven't made an update on FNaTL1RE in quite a while, but I have finished building the Noo-noo, who appears as an easter egg in the game on your office desk. He has a 1 in 15 chance of appearing. If you hear his music box or you see him on the desk, or both, you should simply put your camera up before he kills you 6 seconds later. Also, the Tinky Winky from Slendytubbies will also appear as an easter egg, too. He has 1 in 30 chance of appearing, and sorry if this is becoming irrelevant already. Just to let you know if you've ever played that game series. Anyways, here are some pictures of the restaurant layout and the finished model of the Noo-noo: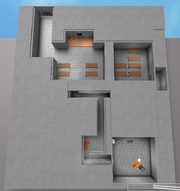 Ad blocker interference detected!
Wikia is a free-to-use site that makes money from advertising. We have a modified experience for viewers using ad blockers

Wikia is not accessible if you've made further modifications. Remove the custom ad blocker rule(s) and the page will load as expected.